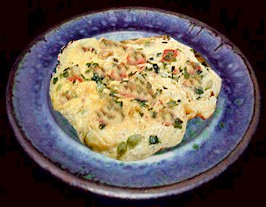 Food plays a very important role in all Parsi festivals. Parsi food is a delicious blend of West Indian and Indian cuisine.

Parsis prefer non-vegetarian dishes mainly cosisting of fish, meat and chicken. However there are few Parsi recipes which are vegetarian.

Parsis are the most jovial and coheasive community. Parsis are the followers of Zoroaster, the great prophet of Iran.

# Parsis believe that there are six seasons in a year with an important festival in each of them. These festivals are known by the name of GAHAMBARS. These were originally agricultural festivals but as Zorastrianism developed, they assumed religious significance
Welcome to Our Recipe Section, Each week, we will update new recipes on our site, All are Courtsey of Parsi Woman and Some man also who would like to dedicate their name and recipies on our website. Enjoy and please do contact me if you have any comments, questions (Contact Us Page)
Our new recipe: by Pervin Fatika
Lagansala Stew
Ingredients:
50 gms Yam cubed small
2 sweet potatoes cubed small
50 gms Frenchbeans cubed small
1 capsicum cubed small
4 carrots cubed small
200 gms shelled green peas
2 large chopped Onion
3 chopped green chilli
1 tsp cummin seed and coriander seed powder
1/2 tsp turmeric powder
1 tsp garlic and ginger paste
2 chopped tomatoes
salt as per taste
1 tblsp vinegar
1 tblsp Worcestershire sauce
Coriander leaves
1 bunch finely chopped celery
Oil
Method:
Boil green peas and celery

Fry all cubed vegetables separately and remove from oil.

Fry onions until tender.

Add green chilli, cummin and coriander seed powder, turmeric, garlic and ginger paste and fry for two minutes.

Mix in the fried and boiled vegetables, tomatoes, and salt.

Stir occasionally.

Put water on the lid and cook until reasonably dry.

Add vinegar and Worcestershire sauce, stir.

Serve hot garnished with coriander leaves.
Traditional Favorite: Dhansak
by Perizaad K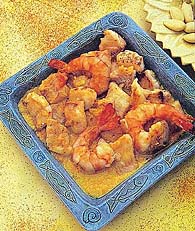 Dhansaak
Ingredients
Vegetable oil 6 tbsp
Green chilies, chopped 5
Ginger 2.5 cm long piece
Garlic 3 cloves
Bay leaves 2
Cinnamon stick 5 cm 1 piece
Chicken 900 gm
Water 600 ml
Red gram 175 gm
Moong dal, tuvar dal
and masoor dal 50 gm each
Potatoes 2
Eggplant 1
Onions 4
Fresh spinach 50 gm
Fenugreek leaves, fresh
or dried 25 gm
Carrots cubed 115 gm
Fresh coriander 115 g m
Fresh mint 50 gm
Dhansaak masala 2 tbsp
Sambhar masala 2 tbsp
Salt to taste
Brown sugar 2 tsp
Tamarind juice 4 tbsp
Garlic, sliced 1 cloveMethod: Heat 3 tbsp of oil in a frying pan and fry the green chilies, ginger and crushed garlic cloves for two minutes. Add the bay leaves, cinnamon, chicken and water. Bring to the boil then simmer until the chicken is half cooked.
Drain and keep aside. Add the lentils to the water and cook until they are tender. Mash these.
Drain the potatoes and eggplant and add to the lentils with three of the deep-fried onions, the spinach, fenugreek and carrot. Add some hot water if the mixture is too thick. Cook until the vegetables are tender, then mash again with a spoon, keeping the vegetables a little coarse.
Heat 1 tbsp of the oil in a frying pan and gently fry the fresh coriander and mint with the dhansak and sambhar masala, salt and sugar. Add the chicken and fry gently for about 5 minutes.
Return the chicken and spices to the lentil and vegetable mixture and stir well. As lentils absorb fluids, adjust the consistency if necessary. Heat gently until the chicken is fully cooked.
Add the tamarind juice and mix well. Heat the remaining oil and fry the sliced clove of garlic until golden brown. Pour over the dhansak. Garnish with the remaining deep-fried onion and the reserved coriander and mint. Serve hot.